Then there's
Helena Seger: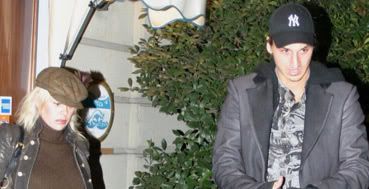 Born in 1970, Helena Seger moved to Zlatan's hometown, Malmö, at 17. She started out working as a bartender and a model, but then got the job as a clothing shop assistant. Rapidly working her way up to shop manager, she was then hired as account manager at Swatch Group Nordic. Obtaining a degree in economy, she became the marketing manager for the newly started airway company FlyMe, and also got on the board of the biggest publicist company in Scandinavia, Bonniers. According to friends, she actually resembles Zlatan somewhat - they've got the same kind of humour and attitude (right, now I'm scared).
Zlatan had one serious relationship before her, with webdesigner
Maria Olhage
. She was his age and studied graphic design in Gothenburg. They met in 2000 when she was working at a hotel in Cyprus, where he spent his vacation. She said:
"He was so shy. He sat in the bar a whole day to keep me company."
She had no idea he was a famous footballer -
"It was a shock to me, coming home and realizing how much attention he was recieving"
. She's in the documentary "Blådårar", where she hangs out in Zlatan's mother's kitchen with his younger brother Alexander. Zlatan says about his mother that
"She's my mother, and I love her so fucking much, actually. I love her as much as I love my girlfriend"
, to which you can hear her yelling from the kitchen
"thank you, darling!".
They got engaged in 2001 - Maria was the girl apropos of which engagement present he said:
"What she got? She got Zlatan!"
. She was going to move with him to Amsterdam and study computer science, but they broke up right before he moved. Here's a pic of her from the documentary:
In the summer of 2002 Zlatan went out with the model
Erika Johnson
. At the time he could have gotten quite a number of girls (in Sweden, anyways), but went after the one woman that wasn't at all starry-eyed.
"That's one cool girl, she's not easily impressed",
a source told Sportmagasinet. Erika later admitted to having met with him a couple of times, but refused to divulge the nature of their relationship.
He was asked, however, in a recent interview with the Inter channel if he had "ever had a love that he'd never forgotten", and promptly answered:
"No, I'm with my love now."
And, for good measure,
"La prima e ultima".
The charming Italian lady who interviewed him was delighted, gushing "bellissimo!" as he grinned broadly.
In 2005, there were rumours about Zlatan having met with someone while in Juventus - a restaurant owner noted a "small blonde" who accompanied him everywhere. The Swedish press started writing about them the same year, but neither he nor Helena chose to comment. After all kinds of silly rumours had circulated in the press about Zlatan and various models, for example Icelandic Tinna Alavis (Zlatan:
"I had no idea I was. But I'm starting to get used to gossip."
*
) and an unnamed model working in Italy, he decided to make a public announcement about the relationship.
"Helena Seger is my girlfriend. I'm making this comment to end all speculation. But that's all I wish to share about my private life"
*
, he told the press before a game against Bulgaria in September 2005. Helena, it turned out, had picked him as a mere 20 years old, after he'd started following her around Malmö in 2001, and they'd been dating for three years.
She visited in Amsterdam occasionally, and during the Euros 04 in Portugal she went shopping with Victoria Beckham before the Sweden-England game, but both she and Zlatan were too discreet for the press to make a connection. When the news got out, Helena's abode in Malmö was instantly swarmed by the press. She just gave a short comment, her one public to date:
"I don't want to talk about that. There is so much more to me than this media story."
In 2005, she moved in with Zlatan in an apartment in central Turin:
Up until then he'd stayed at the Juventus hotel, and one of the receptionists there commented on their relationship:
"While he stayed at Lingotto she visited him almost every week. They behaved like they were married. In that way, he's really different from all the other footballers I've met. This whole time he lived here I never saw him with another woman. You can tell he really loves her".
Considering that girls reportedly were sleeping out in the parking lot just to get in touch with him , I do have to acknowledge this as something of a small feat. (He demonstrated something of the same mentality when Italian press asked him in what order he placed "footall, family, women and friends", and he proved to know his Italian plurals with the answer:
"What do you mean, women? There is one woman, only!"
)
In 2006 it was announced Zlatan and Helena were expecting their first child. She wearily accompanied him to the WC in Germany 06, six month pregnant and chatting on the phone throughout all of Sweden's games.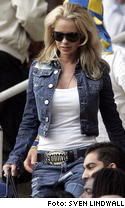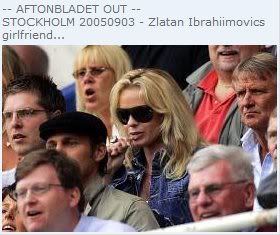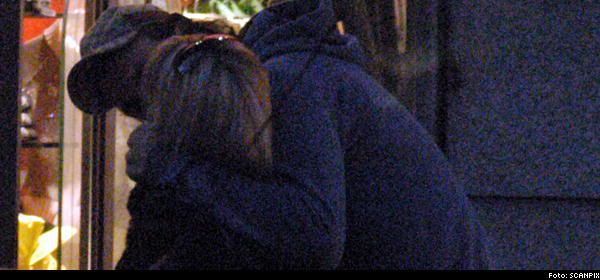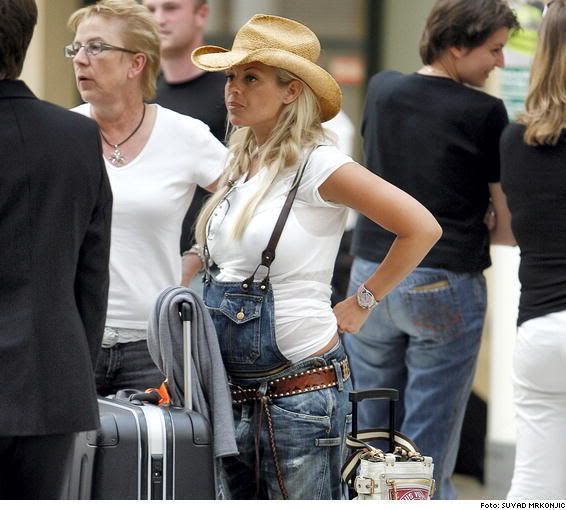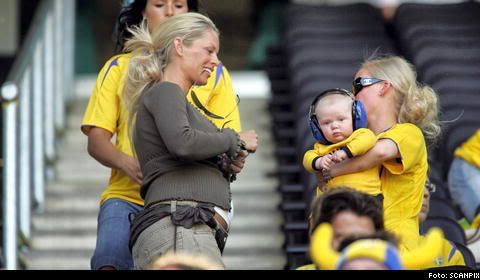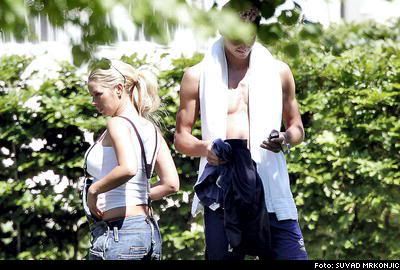 (
Heee.
)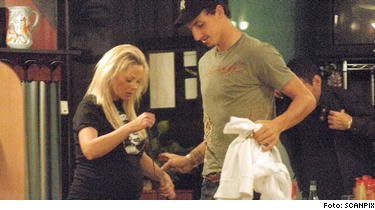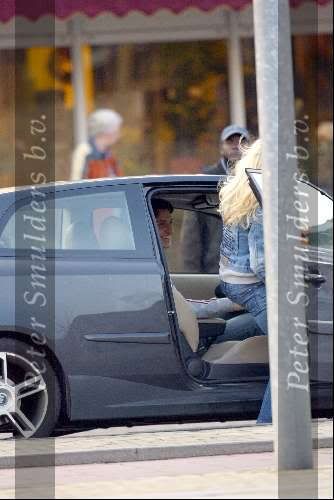 (This is not Zlatan, just some random fan.)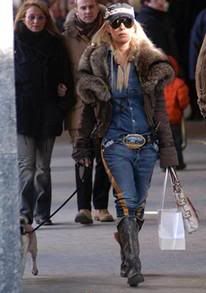 ETA:
Helena out Christmas shopping in Milan (about five months along with her second child - I wonder if they'll go ahead and name this one "Leon", like they were thinking with Maximilian?):
ETA:
Helena accompanied Zlatan to the 2007 Sports Gala, where he was awarded the Jerring prize as best Swedish sportsman. Here are a couple of the pics: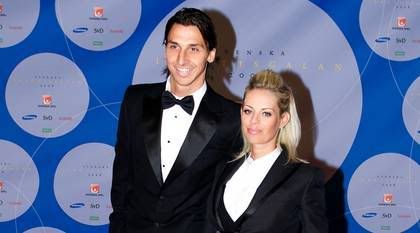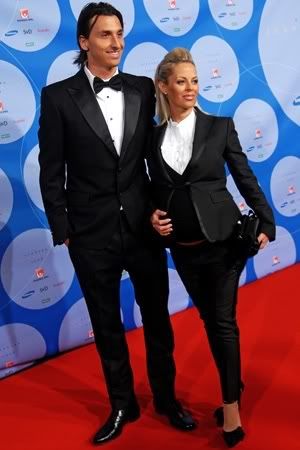 ETA:
Here she is at a fashion show: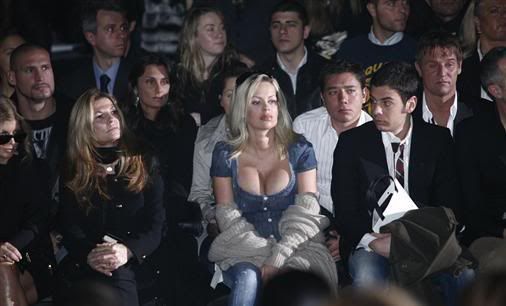 ETA:
Here at the Euros 08: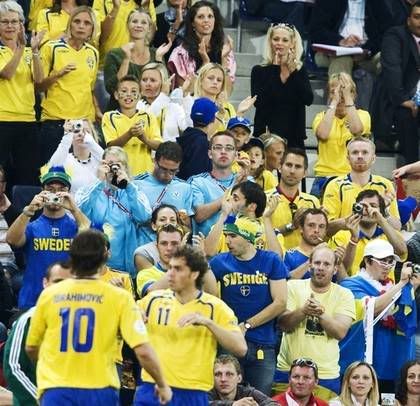 ETA:
Helena at another fashion show:
ETA:
Helena accompanying Zlatan to the 2008 Swedish Football Gala. Afterwards she was interviewed by the host, who asked if they we're going to the party afterwards. "No, that seems a bit too wild. We're heading back to the hotel room." The host: "Are the kids with you?" Helena: "No." *grin*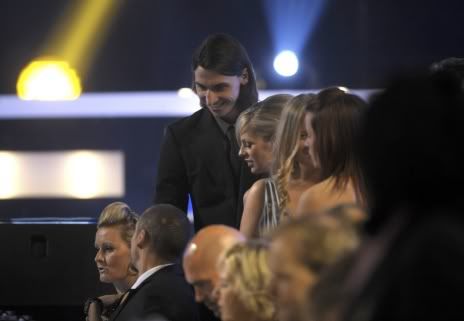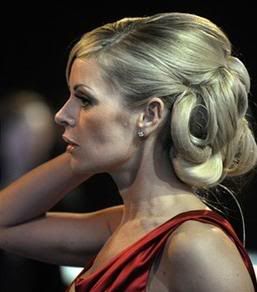 (...coach Lagerbäck.)
Pic from the hair salon: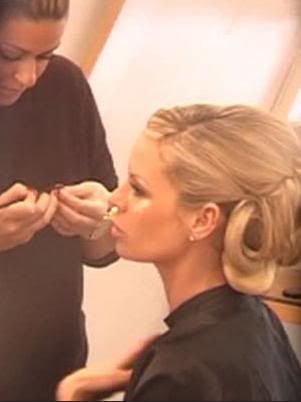 ETA:
In his first
interview
(2008-11-17) with Swedish paper
Aftonbladet
since the boycott, Zlatan spoke at length about Helena for the first time:
Reporter:
"The women I know are all impressed with the fact that you're living with Helena Seger, a woman more than 10 years your senior and an independent woman with her own career."
Zlatan: "Haha, they're impressed with her for standing me, you mean? At this point we've known each other for about 7-8 years, that's quite some time. It's felt right all along. She's gotten to know me, she understands what I'm about. I've gotten to know her, I understand what she's about. And she isn't phased by my job, she knows I'll have to stay away a lot. She knows how it works.
We talk a lot. She'll tell me her ideas on all these issues. She's so fucking smart, she's so intelligent. I don't mean to brag about her, but she just is. And she's wicked in the kitchen. Okay, I'll brag about that."
R:
"What does she cook?"
Z: "Anything. We'll search for a recipe online and then she'll just do it, and it's always fantastic."
R:
"So you cook together, is that your thing?"
Z: "No, I don't have the skills. But Maxi is learning. The little one hasn't quite gotten to that point yet."
R:
"How did you meet Helena?"
Z: "We met in Malmö. I saw her once, out on the town, during the day. I kept trying to get in touch with her, and then finally I got her number. And then it sort of escalated. We started living together when I moved to Turin."
ETA:
Pics from their weekend in Paris this fall: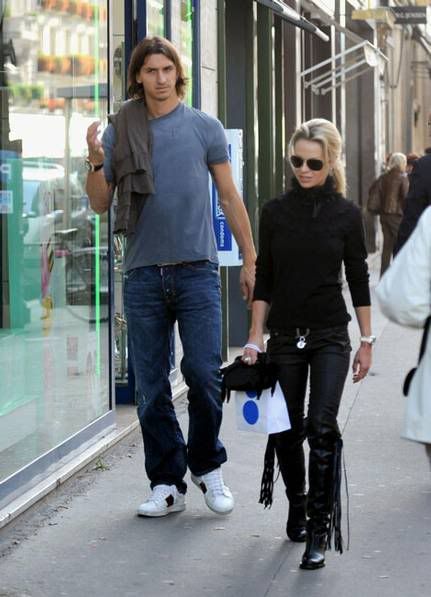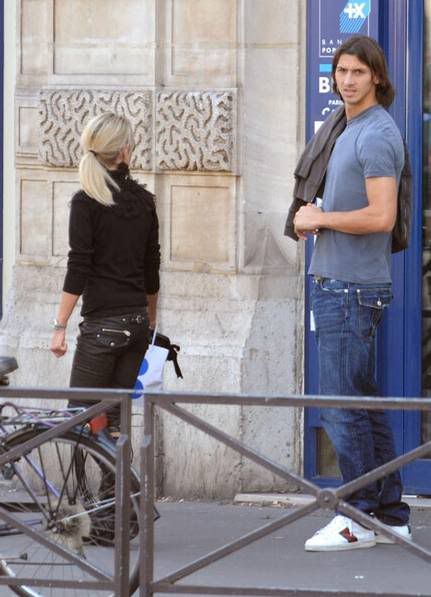 ETA:
Zlatan and Helena Seger shopping with Mino Raiola in Milan in the winter 09:
And finally,
Maximilian:
Born on the 22 of September, Zlatan Maximilian Ibrahimovic is, according to one of Zlatan's friends, a "cute kid", looking like "his father's son"
*
. His parents being very private, we've got the following of him so far:
His stroller: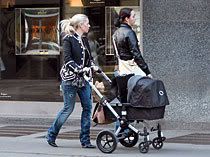 And a picture from the Swedish press of what he might grow up to look like (Zlatan's eyes and grin, Helena's nose and chin):
***
Edited to add:
So, Maximilian has made his debute. In the arms of Moggi and causing a scandal, but there you go.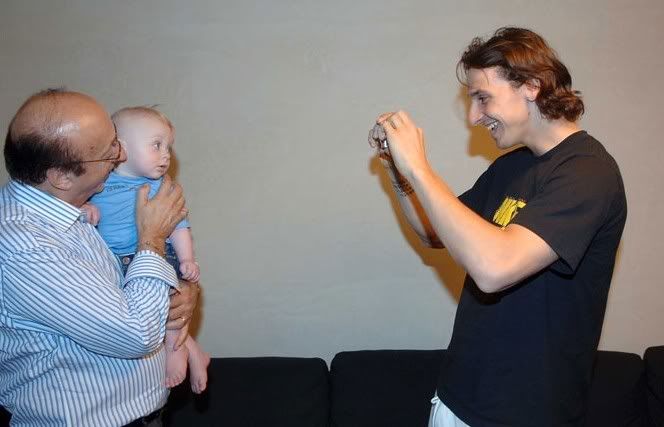 ETA:
I've added a couple of pics - one of Maximilian and Helena in Sweden for the Euro qualifier against Denmark in June, three from his Christmas shopping in Milan 07, and two of him cheering Zlatan on in an Inter game: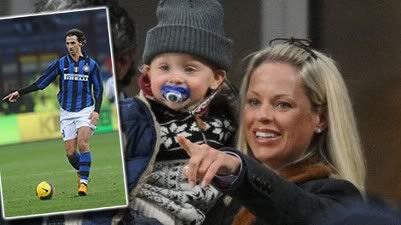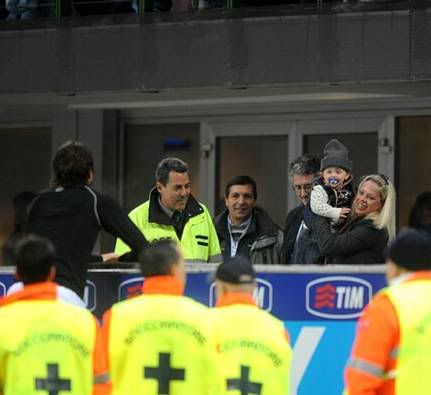 ETA:
Added these: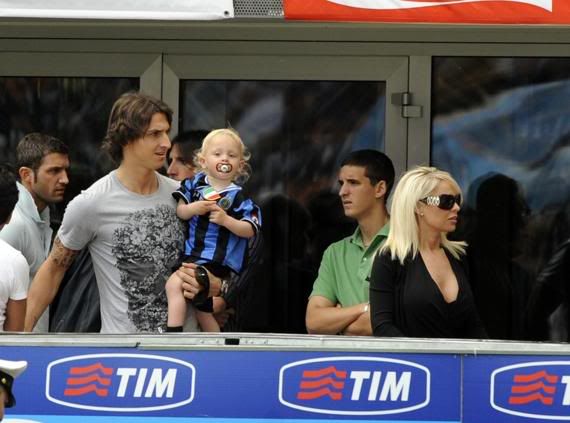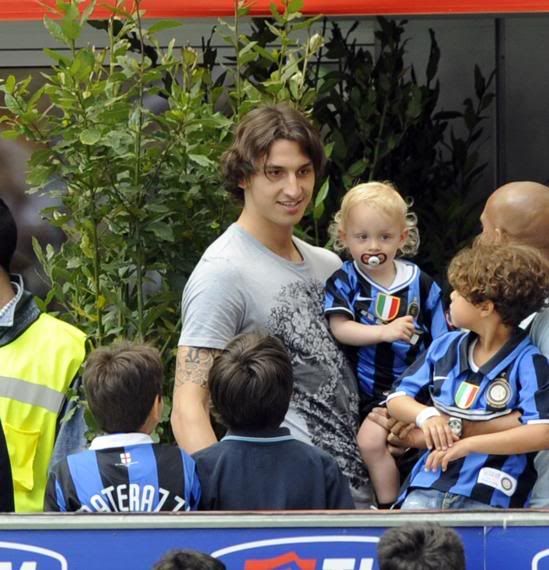 ETA:
Recent Maximilian pic:
ETA:
In March 2008, Maximilian got a little brother,
Vincent
. The name is likely inspired by Helena Seger's last name, which means "victory" in Swedish. The surgeon who delivered Helena told
Expressen
that the delivery had been flawless, Zlatan held Helena's hand the whole time, and the newborn was extremely loud.
First pic of Helena after the delivery: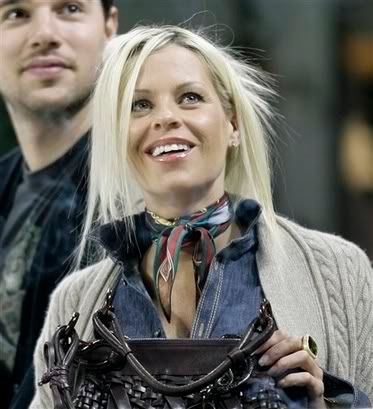 ETA:
Vincent's first public appearance, in the company of Helena Seger and Maximilian and in the arms of Zlatan's press agent Dick Landgren: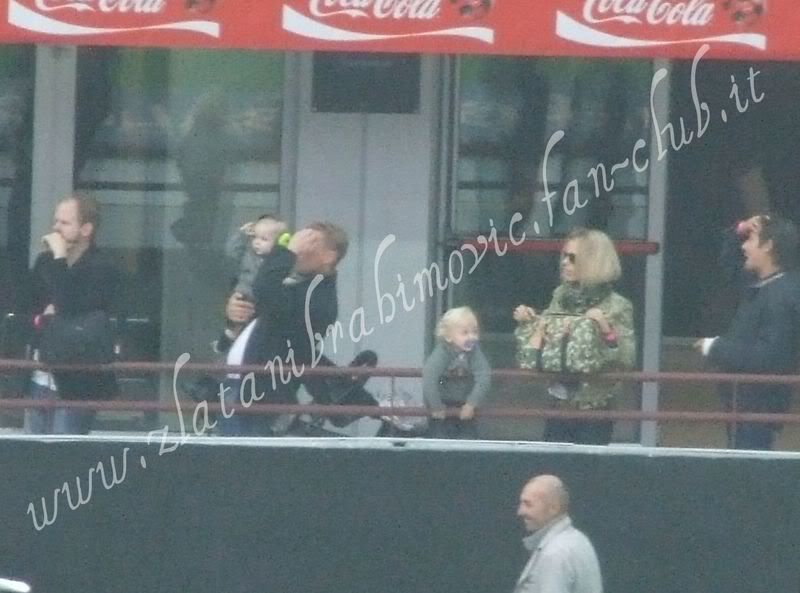 And here is Maximilian pulling the ears of Dick, thus continuing the tradition of harrassing him once introduced by his father: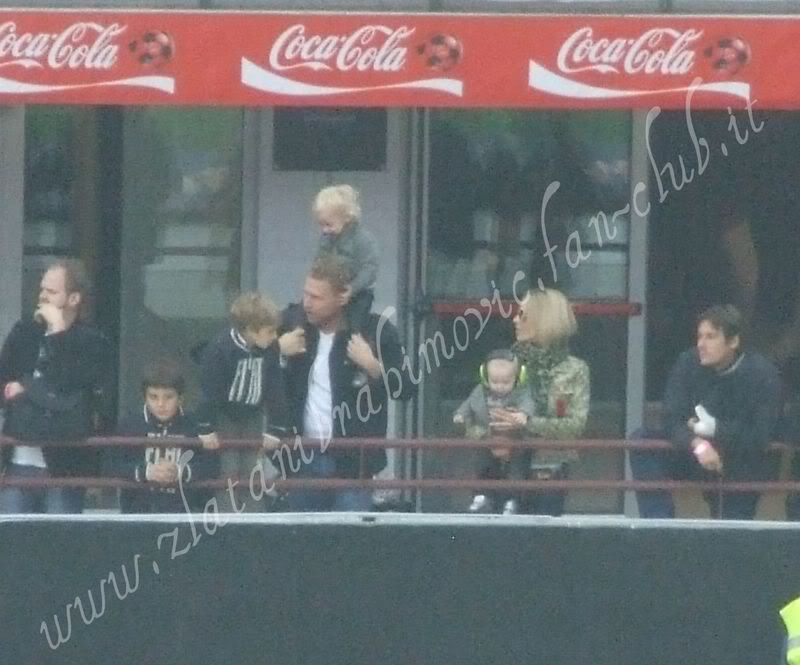 ***